Top row: Matthiessen Chatfield-Taylor, Cameron Kline, Coleman Jackson, Tanisha Dozier, Nicholas DiChiara, Connor Roman. Bottom row: Jack Seher, Baihly Underhill, Kelly Simek, Gregory Kfoury.
WASHINGTON, DC–It is the second week of January 2017 and Coleman Jackson and Connor Roman are pounding the pavement in Washington DC's Capital Riverfront submarket, checking out the various office buildings to get a sense of what they are like, who are the tenants and the overall vibe of the neighborhood.
Later, they will present what they learned to their colleagues.
A more seasoned broker might find such a task on the dreary side, but Jackson and Roman are the first participants in Colliers' Accelerate program in the Washington DC area and they competed heavily for the chance to do just this.
Accelerate is an intensive two-year training program that Colliers introduced in 2013 with the goal of nurturing and seasoning its new brokers. It is a departure from the usual model in the industry in which a young broker is paired with a senior broker to learn the ropes. They usually spend the first year doing mundane tasks — okay, grunt work — such as fetching coffee or entering data. Slowly they are introduced to more exciting stuff such as interacting with clients. For a newbie eager to build a career, or at least a book of business, this path can often seem to be more of a slow, aimless slog.
Recognizing that this clearly was not a model conducive to attracting Millennial talent, Colliers developed Accelerate, a comprehensive two-year program in which a handful of carefully selected new brokers are groomed to move up in the company at a faster pace.
A Formal Structure
The program follows a formal structure with participants regularly attending seminars and taking online training. They are taught about hard facts about markets and financing structures, for example, as well as soft skills such as how to work the CRE deal cycle.
Accelerate is rolling out on a market by market basis. It was first introduced in Toronto and Vancouver in Canada. Then, in 2015 the Los Angeles and New York City Colliers' teams debuted their respective programs.
Now it is Washington DC's turn.
The local Colliers launched the program at the end of November 2016, Tanisha Dozier, director of Strategic Projects tells GlobeSt.com.
"From day one we empower our Accelerate brokers to start building their business," she said. This includes participating in revenue sharing, although Dozier noted that they are unlikely to have the skill set to do that right away. DC's Accelerate class of 2018, so to speak, just wrapped up their classes and training about market basis. Now, they have been paired up to investigate the District's various submarkets. Later they will move through Northern Virginia and Maryland.
The program is still new enough that year-over-year metrics are not available but early indications suggest that the first wave of participants in the Los Angeles program are beginning to earn more than their draw, according to Dave Parker, regional managing director for Colliers International Washington, DC.
Colliers' DC Accelerate has launched with a class of nine brokers. They are new hires culled from applications Colliers received after posting the position in several venues, Dozier said. Eight of the nine have graduated from colleges within the last two years and the ninth came with a few years of experience. They are a geographically diverse group with backgrounds in Texas, Boston and Washington DC.
New participants will be selected for another class next year and it is possible that the number will increase depending on the market, Dozier said. What is key, though, is that there is a good mix of participants. After all, they will be working together as a group for the next two years.
A Family Profession
Interestingly, some of the participants in this year's class are the children of local real estate industry players. That their children are seeking a career in real estate should not come as a surprise to anyone — this industry, at least in this city, is often a family affair for both investors and brokers.
Colliers made sure that the participants were chosen strictly on merit, Parker tells GlobeSt.com. "We did not want just people who grew up in DC and went to college locally and we definitely didn't want to just open the doors to the sons and daughters of friends."
For that reason Parker stayed far away from the selection and interview process, leaving it to Dozier. Still, he adds, "it was gratifying to me that parents in the industry trusted us with their children."
The bottom line was that Colliers wants bright, young, curious hard-working people for this program, he said. "And that is what we got."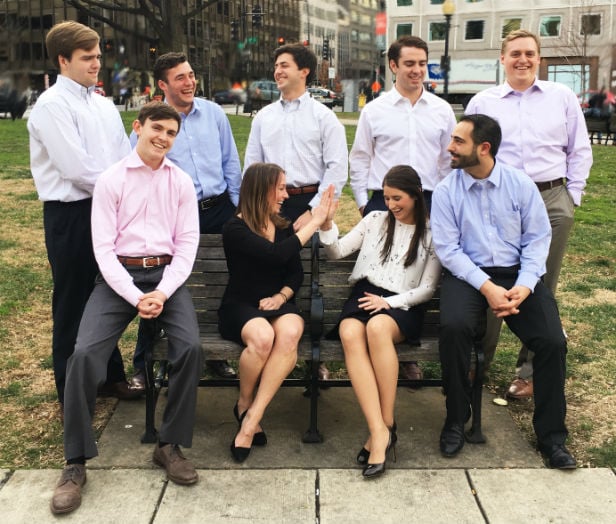 Top row: Matthiessen Chatfield-Taylor, Cameron Kline, Coleman Jackson, Nicholas DiChiara, Connor Roman. Bottom row: Jack Seher, Baihly Underhill, Kelly Simek, Gregory Kfoury.